For electro-welded seam types of SQUARE AND RECTANGULAR HOLLOW SECTIONS made by method of DIRECT FORMING of initial steel material.
Line's functions: new method of square and rectangular hollow sections production.
Customer who use these lines:
Save about 3-8% of material compared with classic lines.
Save time for roll changing depending on the requires section dimensions. A PLC is used to adjust all rolls positions.
Main Direct Forming Line Range technical data:
Material thickness range, mm 2-6 / 3-8 / 4-10
Coil weight range, ton: 10 / 15
Square (and rectangular) sections range:

From 80x80x2mm to 200x200x6mm
From 100x100x3mm to 250x250x8mm
From 140x140x4mm to 300x300x10mm

Working speed range, m/min: 0-40
Ready product length, m: 4 / 6 / 12
Necessary time for sections dimensions changing, hours: 1,5-2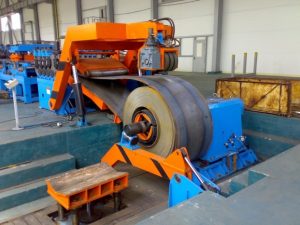 For electro-welded ROUND TUBES
Line application: classical lines to produce seamed round tubes.
Main technical data:
Thickness,
min – max
mm
Round tubes,
min – max
mm
Square tubes,
min – max
mm
Rectangular tubes,
min – max
mm
Max line speed,
m/min
1 ~ 4
21 – 60
20×20 – 50×50
20×15 – 60×40
120
1 ~ 4,5
26 – 76
20×20 – 60×60
25×15 – 80×40
120
1,5 ~ 6,4
34 – 114
25×25 – 90×90
30×20 – 120×60
100
1,5 ~ 6,4
49 – 127
40×40 – 100×100
50×30 – 150×50
90
1,2 ~ 5,5
60 – 141
50×50 – 110×110
60×40 – 120×100
85
1,5 ~ 6,4
60 – 141
50×50 – 110×110
60×40 – 120×100
80
1,5 ~ 6,4
76 – 168
60×60 – 130×130
80×40 – 140×120
60
2 ~ 8,2
76 – 168
60×60 – 130×130
80×40 – 140×120
60
2 ~ 8,2
89 – 219
75×75 – 150×150
100×50 – 200×100
40
2,5 ~ 10
89 – 219
75×75 – 150×150
100×50 – 200×100
35
2 ~ 6,4
101 – 273
80×80 – 200×200
100×60 – 250×150
40
2,5 ~ 8,2
114 – 273
90×90 – 200×200
120×60 – 250×150
35
3 ~10
114 – 273
90×90 – 200×200
120×60 – 250×150
30