VOLVO PENTA
https://www.volvopenta.com/
Volvo Penta is one of the largest European producers of diesel engines for off-highway applications.
Since: 2014
Products: Diesel engines and components


is a leading manufacturer of metal-working equipment. The company specializes in designing, engineering, and manufacturing of equipment and technological process development in the field of metal forming for various types of production.
Since: 2004
Products: Metal forming equipment; Cross Wedge Rolling manufacturing systems
Territories: Global
KONOTOP
https://www.motordetal.com.ua/?q=en
Konotop is a leading Ukraine-based manufacturer of prime-quality cylinder sleeves, anti-polish rings and other products for application in high performance diesel engines.
Since: 2002
Products: Cylinder sleeves
Territory: North America

MICRON
http://www.micron.ua/en
Limited Liability Company Micron Holding Company is one of the leading ball screw manufacturers.
Since: 2007
Products: Ball screws assemblies
Territories: North America

ZMM "POBEDA"
http://www.zmmpobeda.com/company.html
ZMM Pobeda SA (manufacturer) is designing and producing a wide range of machines and lines for metal coils processing.
Since: 2019
Products: Metal forming equipment
Territory: Global

KESSLER+CO
http://www.kessler-axles.coml
Kessler + Co is the leading manufacturer of drivetrain components for heavy mobile equipment. The company develops and produces planetary axles, wheel drives, transmissions, and gearboxes for a variety of different applications including construction equipment, mobile cranes, material handling equipment, mining vehicles, and military vehicles.
Since: 1950
Products: Kessler axles, gearboxes, and wheel drives for vehicles in heavy-duty applications
Territory: Global

BISIACH & CARRU'
BISIACH&CARRU' has established itself as a milestone for research and development in technology through intensive work in advanced design, with a special look forward to the future.
A well affirmed mechatronic approach has led to what Bisiach&Carrù is nowadays: a masterpiece of engineering.
A wide range of turnkey solutions are dedicated to aeronautic needs, in particular:
– design and manufacture of drilling/riveting automatic systems
– robotized systems for aircraft components assembling
– automatic systems for positioning, drilling, and stringer/clip riveting
– robotized systems for machining on wings (drilling, riveting, sealant application, measuring, etc.)
BISIACH&CARRU' mainly operates in the aerospace and automotive fields
Since:1955
Products: Aircraft System / Ground Facilities and GSE's / Platform / Propulsion System / Space System / Structures and Mechanisms / Sub Assy
Territory: Global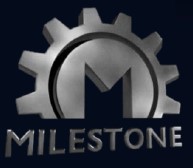 MILESTONE GEARS PVT LTD
http://www.milestonegroup.co.in
LEADERSHIP POSITION:
India's Largest Manufacturers of Bull Gears & Rockshafts Current Installed capacities of a Million Bull Gears.
REAR AXLE LEADERSHIP:
Amongst the Top 2 Producers of Tractor Rear Axles in India
Current Installed capacities of Half a Million Rear Axles.
India's Leading Transmission Components Manufacturing Co. 9 Manufacturing Facilities Spanning 350,000 sq ft area. Global Customer Base. Annual Turnover of Rs 500 Cr (~ 69 Mil USD). Employing over 2000 strong workforce. Offering End to End Solutions from In-house Forging, Machining, Heat Treatment to Finished Product.
Since:1984
Products: Forging Hammers/Forging Upsetters/CNC Machining/Ring Gear Scudding/Induction Hardening/Seal Quench Furnaces/CNC Gear Analyzers/Hob & Shaver Resharpening
Territory: Global