SPECIAL MACHINES AND SUPPORT EQUIPMENT
PACKAGING MACHINES
Packaging machines are designed for wrapping packages of various configurations products with polymeric tape
BENDING MACHINES
Bending machines of MGPL series are designed for bending of 12 m to 100 m sheet panels radius.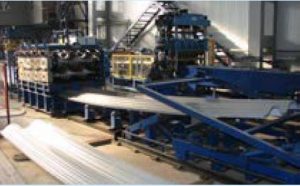 ROLLER FEEDERS
Roller feeders UVP series are designed to feed steel strip into a press at a maximum speed of 60 m/min
PERFORATING MACHINES
Perforating machines are designed for spherical deformation of the original strip by means of rotation in order to increase its rigidity.
FLYING SCISSORS
Flying scizzors integrated in roll-forming lines and designed for non-stop cutting steel profiles to pieces.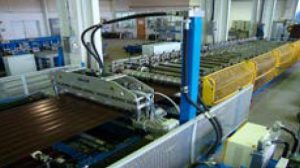 CONVEYORS & STACKERS
Conveyors and stackers are designed for stacking sheets in a pack and transferring them along and across the profiling axis.