Metal Processing Equipment Manufacturers
ERS Engineering Corp. produces Metal Processing Equipment at manufacturing sites in Belarus (AMT Engineering) and Bulgaria (ZMM Pobeda).


AMTengineering specializes in design, engineering, and manufacturing of equipment for the metal-working industry.
Over the years of successful operation AMTengineering has assisted its customers in increasing profitability and discovering new business opportunities. AMT's main goal is to meet and exceed its customers' expectations and become the most advanced and respected metalworking equipment supplier worldwide. The AMTengineering's floor space, including its engineering center, is about 8000 square meters. At present, the company employs nearly 190 people (including 76 design engineers). Many years of research activities and design developments are reflected in the high quality of AMT's equipment. Since the company started operations in 1999, it has received 42 patents for various types of equipment and special tools.
CUSTOMERS: The equipment manufactured by AMTengineering is successfully working at factories of some leading enterprises of the world: "StanleyBlack & Decker", "DANAHER Tool Group", "Metaldyne" (USA), "American Axle & Manufacturing" (Mexico), "Severstal", "Gorky Automobile Plant", "Kama Automobile Plant", "Exergia", Vologda plant "Building Constructions and Road Machines", Samara Plant "Electroschit", "Novolipetsk Metallurgical Plant", Dimitrovgradsky Plant of Light Steel Profiles", the Group of companies "Metal profile" (Russia), "Minsk Tractor Works", "Mogilev Plant of Elevator Engineering", "Belarusian Potash Company" (Belarus) , Chernigov Plant "Avtodetal", "Vinnitsa Plant of Tractor Units", Dimitrovgradskiy Plant "Gidrosila" (Ukraine), and others.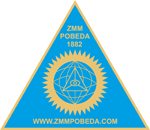 ZMM Pobeda S.A. is a company with a two century history. It occupies an area of 220 000 square meters. Over the years, machines and equipment such as textile machinery, universal and CNC machine tools, flexible machining lines and cells for the automotive industry, automotive systems, hydraulic components and systems have been manufactured.
The recent products of ZMM Pobeda S.A. are machines and lines for steel coil processing such as coilers, decoilers, roll-forming lines for all closed and open profiles, as well as slitters.
ZMM Pobeda S.A. manufacturing facilities floor space is 80000 square meters comprising following departments:
Machine workshop
Assembly workshop
Sheet metal processing workshop
Foundry
Galvanizing workshop
Heat treatment workshop
Warehouses and offices